ABOUT AMERICAN WATER SPANIELS
Early 1900's AWS Pups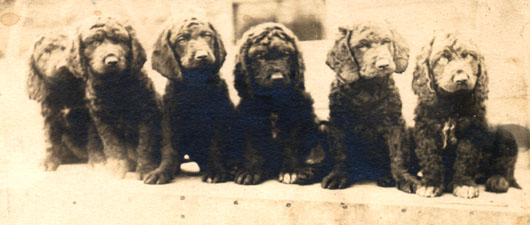 American Water Spaniels are one of the true American bred Breeds. Records have been found to date the breed back to 1865. American Water Spaniels, (AWS) were first bred along the Wolf and Fox River Valleys of Wisconsin. They were originally known as the Brown Spaniel or the American Brown Spaniel. AWS are believed to be developed from crosses of the Curly Coated Retriever, Irish Water Spaniel, Field Spaniel, and the now extinct English Water Spaniel. On February 8, 1920, UKC registered the first AWS "Curly Pfeifer" named after Dr. F. J. Pfeifer, of New London, Wisconsin. Dr. Pfeifer has been recognized as the *father* of the breed. In 1938, the breed found its way into the Field Dog Stud Book and was recognized by AKC in 1940. The AWS is known as being a versatile gun dog, functioning well in both marsh and uplands. They were bred small enough to fit into skiffs, or canoes, without tipping them over, but yet strong enough to retrieve the game.
AWS are able to retrieve a variety of Upland Game and Waterfowl ..... Canada Geese, Wood Cock, Pheasants, Grouse, Chuckars, Dove, and even small game like Rabbits and Squirrels. They were bred not only to hunt but to watch over the hunter's cabin and posessions. The AWS is not a shy or timid dog, but one that is cautious. They retain much of their original breeding today. AWS are one of the smallest Sporting Breeds registered with AKC. They are more numerous around the Great Lakes area than the rest of the states, however, one can find breeders scattered throughout the U.S. There are only 3 blood lines left, world wide, out of the original 20 - 30 and the gene pool is becoming smaller as time goes on. AWS generally attach themselves to one owner or a small family. They have the characteristic of being a very intelligent, trainable, and loyal pet.
Springer and American Water Spaniel Pup
Ready to HUNT!
Early 1900's boy with a gun, girl, and AWS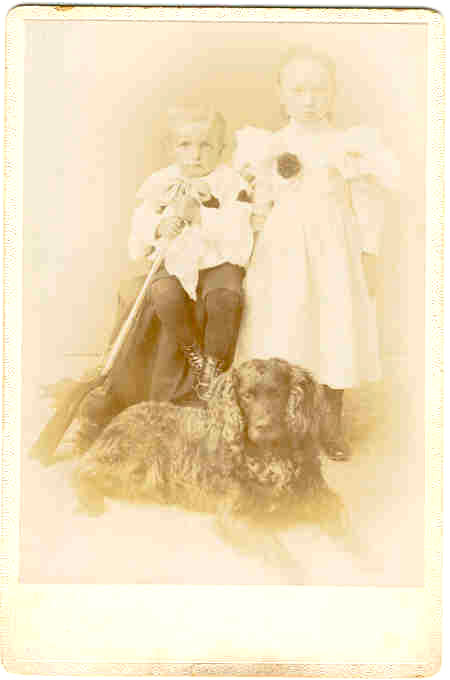 NEW LONDON, WISCONSIN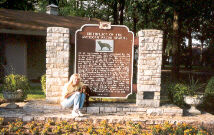 Home of the American Water Spaniel